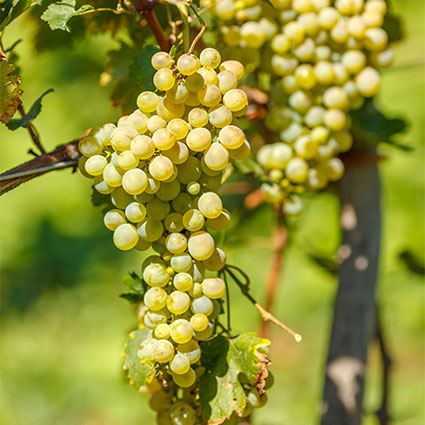 Muscat is a large family of grapes but the most important one in terms of quality is the Muscat Blanc á Petits Grains. This superior small-berried clone of Muscat is planted in the vineyards of Achaia region and it is only second to Roditis in terms of total plantings. It is grown in different parts of the prefecture, from higher altitude vineyards to produce dry whites with bright acidity and great sophistication, to lower-lying land, where it yields excellent fruit for the production of dessert sweet wines. White Muscat is the "jewel" in the crown of Greece's best dessert wines.
The very essence of the grape is its remarkable perfume reminiscent of grapes, stone fruits, roses, orange blossom, Turkish delight and scents of musk and glacé fruit. It is prone to diseases and has moderate vigour. It displays medium resistance to drought and ripens at the beginning of September, depending on the site and the altitude. It consists 11.5% of Achaia's total vineyard.
Most of its production is dedicated to the sweet PDOs Muscat of Patra and Muscat of Rio Patra. Some examples are very sweet with intense varietal character, while others are influenced by a period of oxidative maturation in barrels developing complex notes. The sweet wines are made either from sun-dried grapes or with fortification. Fortification takes place prior to the beginning of alcoholic fermentation or during its first stages, by adding grape spirit to halt the action of the yeasts. The dry versions of white Muscat can be labeled under the PGI Achaia designation.
Aroma characteristics
pronounced, aromatic. From cool-climate vineyards less ripe fruit, floral, delicate, rose-scented. From warmer low-lying spots riper fruit, perfumed, rose petals, Turkish delight, spiciness. Sweet wines can also display honey, raisin, musk, orange marmalade, and/or rancio notes from oxidative maturation.
Styles
most of the dry wines are to drink relatively young; sweet wines can age for many years in the bottle. Dry, intense, perfumed, fresh, floral, orange blossom, grapey and mineral. Intensely aromatic characterful "orange" wines, "turbo-charged" with rose petal or lychee aromas by the prolonged skin-contact. Unaged sweet, full, rich, heady wines with pronounced varietal character, usually fortified. Aged, intensely sweet wines, complex that reek of honey and raisins to complement varietal character and with great balance. They are made usually from sun-dried grapes.
Pairings
fried fish, veggies and salads (dry styles), spicy food (orange skin macerated), rice cakes, creamy desserts, fruit tarts, mild cheeses (sweet wines).