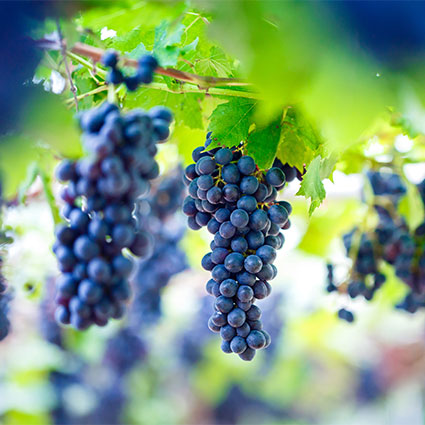 Mavrodaphni is the undisputed red "star" of Achaia and Ilia regions, bursting with its lovely herbal quality and vinified in dry versions, even if the grape's path to fame was carved through its famous and exquisite sweet fortified wines, made in the style of Port. Mavrodaphni is the most planted red grape variety in Achaia, covering almost 7% of its total vineyard.
Mavrodaphni presents vigorous growth, relatively high-yields and it is sensitive to drought and downy mildew. It matures usually in mid September and there are different natural clones in the vineyards. The small-berried clone with looser bunches is called locally "Tsiggelo" and it is found in the mountainous old vineyards of Aigialia slopes. It is considered to be the authentic, pre-phylloxera version of the grape variety and displays lower yields and better quality grapes. It is usually mixed in the old vineyards with other existing natural clones of Mavrodaphni grape.
The variety is increasingly explored from a different angle and there is a trend towards the production of dry red wines. Dense aromas of prunes, blackcurrants, angelica flavors and bay leaf are complemented by depth and structure on the palate with fine-grained tannins. There are both fruitier, unoaked styles as well as complex, barrelaged examples. The best sweet versions receive long barrel ageing (old barrels) and they are refined, polished, concentrated and classy. They display a complex array of aromas and flavors with sweetness and balancing acidity. The sweet versions in the designated area around the city of Patra are sold under the PDO Mavrodaphni of Patra label. The dry versions can bear the PGI Achaia, PGI Slopes of Aigialia and the PGI Letrini and PGI Ilia.
Aroma characteristics
blackcurrants, black cherries, prunes, raisins, herbal notes, bay leaf, mint, sage, often aged in oak (new or old).
Bottle-age bouquet
sweetly ripe fruit, leather and meaty character, tobacco.
Styles
unoaked dry versions with delicately fragrant ripe red fruit, juicy and lightly spicy reds. Oaked dry versions, generous, warm with herbal undertones and structure that indicates long-ageing potential. Sweet fortified, Port-style, versions, some of them with minimum ageing and others left for years in old barrels in order to develop great complexity and rancio oxidative style.
Pairings
Korean barbeque, meat casseroles, duck, yakitori (dry styles), chocolate based desserts and cheese (sweet styles).