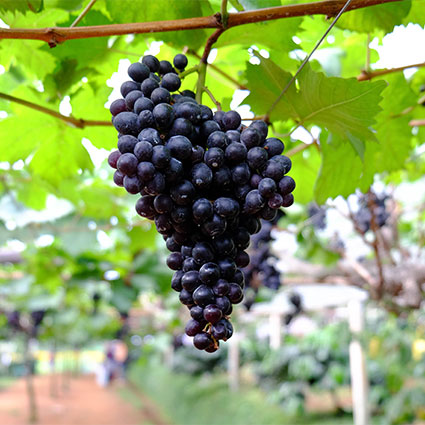 Black of Kalavrita (or Mavro Kalavritino) is an almost forgotten grape variety of Achaia that was brought back from extinction quite recently. Plantings are still very low. It offers wines with elegance, red fruit aromas, spice and savoury nuances, over a frame of freshness and delicate tannins. This thin-skinned, pale, and slow-maturing grape is prone to botrytis and there are few varietal wines as well as blends with other local varieties such as Mavrodaphni. It comprises less than 0.2% of the Achaia vineyard. Rare as a mermaid, it is a promising grape variety that highlights the local terroir and displays cool-climate finesse.
Aroma characteristics
red fruit, Mediterranean herbs, pepper, spicy, savory.
Bottle-age bouquet
with ageing it develops a slight gamey quality reminiscent of leather.
Styles
Elegant, medium-bodied dry reds with vibrant red fruit and savory undertones. Finely aromatic, vibrant roses with high laser-like focus and leafy freshness.
Pairings
tuna fish and salmon, barbeques, Bolognese or pasta with tomato sauce, pizza.