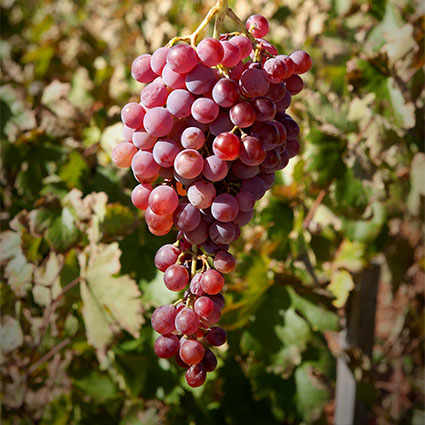 Pink-skinned Roditis is the second most planted variety in the Greek vineyard and it is the single most important grape variety in Achaia and to a lesser extent in Ilia. It is drought-resistant, late-ripening and productive; however different clones and mountainous terroirs can yield great cool-climate examples, bursting with fresh aromatics, energy and precision. A small-berried, low yielding, pink-colored clone (known as Roditis Alepou, meaning Roditis Fox), is considered to be a superior expression of the grape variety.
In Achaia it consists 60% of the total plantings and in Ilia almost 35%. It is a very old grape variety. DNA profiling has proved that Roditis is a progeny (has the highest genomic similarity) to the Italian variety Ansonica found in the region of Tuscany. The molecular analysis gave conclusive evidence for the Greek origin of Ansonica grown in the island of Giglio and Tuscany. It was imported via Sicily through the Greek civilization in the 4th century B.C.
Mountainous terroirs and old bush vines restrict yields and transmit the "message" of terroir in the most transparent way. In such vineyards, Roditis enjoys ideal conditions for a long vegetative period and slow ripening, creating grapes with expressive aromas and high tension. These great examples can age for minimum 5 years, adding toasty complexity and honeyed character to the characterful lemony-freshness. Simpler neutral expressions of Roditis are sourced from flatter and more fertile soils. Such vineyards are the "work-horse" of the grape's output, capable of producing everyday wines with excellent value for money. Due to these sites, Roditis caught a long-standing reputation for being defined more by volume and cheapness rather than quality. Whether in single varietal expressions or in blends, Roditis is extremely versatile in this part of Western Peloponnese.
As consumers become more discerning, producers are looking to create even more unique wines and styles. Lately, following the growing trend, there are some exquisite examples of "natural" and/or skin-macerated "orange" Roditis released in the market. There are also many producers who are experimenting with new fermentation vessels, such as amphorae, concrete eggs or partially oaked wines. Taking advantage of the variety's extreme resistance to drought and diseases, some winemakers also practice less interventional methods in the vineyards, such as sustainable, organic or biodynamic viticulture.
PDO Patra dry wines are made from 100% Roditis grape. Roditis also takes part in the PGI Slopes of Aigialia, PGI Achaia and PGI Ilia.
Aroma characteristics
can be relatively neutral in higher yields. However, from high altitudes (up to 1050 m) or when produced from old vines the expression is different; mineralic, lemony, energetic with lovely purity of fruit (citrus, melon).
Bottle-age bouquet
best versions can age up to 5 years at least. They develop a lovely toasty, waxy and honeyed character with hints of lanolin and nutty finish.
Styles
most wines are made to drink young.
Fruity, unoaked, light-medium, relatively neutral, dry and simple. Uoaked, powerful, yeasty and mineral (from mountainous vineyards) Skin-macerated "orange", tannic with great structure (skin contact for 30 or so days).
Partially oaked, very few examples as a result of further experimentation Retsina (traditional style made by adding the resin of the pine tree) with a herbal and pine imperative and great poise.
Pairings
raw seafood, sashimi, fried fish tempura, ramen, soups (whites), pork and chicken (especially orange styles).