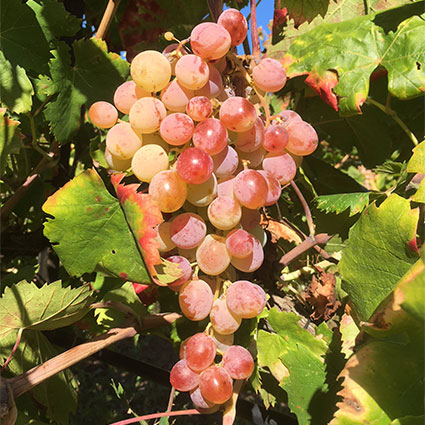 Pink-skinned Sideritis grape variety is one of the rarest gems of the Greek vineyard. It is local to Achaia and nowadays it's found in scarce plantings. It is vinified by a small number of wineries in order to produce delicate and fragrant white and rose wines. Roses receive a very small period of skin-contact and are light in colour.
Sideritis (means iron in Greek) is a hardy and disease resistant grape variety due to its thick skins. It is quite vigorous and productive and therefore needs strict pruning in order to restrict its tendency for high yields. It's among the latest harvested grape varieties in the Greek vineyard and if the weather permits, it is left to ripen even until mid November. The berries ripen unevenly and thus it can be harvested in two different passages to achieve the optimum technological maturity. Alcohol levels are moderate and the wine displays a beautiful natural acidity and fine fruity notes reminiscent of pear, grapefruit and white flowers.
Aroma characteristics
semi aromatic, elegant aromas of pear, citrus fruit and white flowers.
Bottle-age bouquet
it's quite oxidative and after two or three years it develops some honeyed aromas gaining soft texture and roundness.
Styles
drink young. Fruity whites, unoaked, medium bodied with delicate aromas and balancing acidity. Elegant, pale-colored roses with bright freshness and fine grapefruit notes.
Pairings
fresh salads, starters, raw shellfish, sushi and sashimi.